​Use unique technologies from Aptum to streamline your research and development:
it's all about epitopes
Find not any, but highly immunogenic B and T epitopes using our novel, unique software EpiQuest. Predict epitope acessibility. Evaluate its complexity (uniqueness).
Prepare the required epitope using our peptide synthesis and a high titre-serum to it using our services
Boost the humoral or cytotoxic immune response to required epitope/antigen using our unique patent-protected adjuvants
Recover epitopes on routine tissue material using our time-tested 2100 Retriever: maybe the best antigen retrieval unit today. Benefir gtom using R-universal epitope recovery buffer to unmask prectically any epitope on routine tissue material (fixed and embedded)
​

​​epitopes
DEFINE IMMUNOGENIC EPITOPES WITH UNIQUE EPIQUEST SOFTWARE
When designing an antigen, either to prepare a high-affinity antibody, or to develop a vaccine for humoral immune research, selecting the right domain within the molecule is the most critical stage. First, the epitope(s) should be accessible, second, it should be highly immunogenic, and third, it should be unique.
Whereas the issue of surface exposure is relatively well addressed by many algorithms for protein sequence analysis (Hydrophobicity plot, Eminy plot etc.), The other two critical questions are not that easy to find the right answer to.
We are proud to announce that our new software, EpiQuest™, is capable to find you the best epitope. More detail…
​
​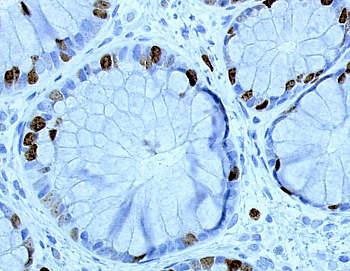 epitopes & ihc
2100 RETRIEVER: MAYBE THE BEST EPITOPE RECOVERY UNIT
​​If you using antibodies (or preparing antibodies for immunohistochemistry, and especially plan to do staining on the routine tissue material (formalin fixed/paraffin embedded), you may find interesting that our new site for 2100 Retriever - a time tested machine for epitope recovery - is accessible. Please visit it, you may find it very useful in your work.
​

​adjuvants
ACCELERATE IMMUNIZATION​
INCREASE TITRE UP TO 30 TIMES
​Being in custom antibody development for almost 20 years, we know the value of getting high affinity antibody fast, either for research or for sales.
Therefore we have developed two novel adjuvants (one in collaboration with our sister company Boost Technologies BV) that have unique properties in the range of similar compounds available on the market. IMMACCEL-R conditions the recipient of the antigen, the immunized animal responses faster and faster switches from IgMs to high-affinity IgGs. MAD improves the delivery and presentation of the antigen to Dendritic cells, as well as potentates T-helper responses for more active humoral immune response. Especially obvious its effect is with low immunogenicity proteins; in these cases use of MAD may increase the titre of specific antibodies 20-30 times. More …​
​
​
​

services
WE CALCULATE AND SYNTHESIE THE BEST EPITOPE
While we are preparing the EpiQuest™ Suite to be available online, we offer you already the possibility to take advantage of this technology but ordering a sequence analysis project where we, using our server will provide you with a detailed analysis of all available epitopes, their strong and weak points, immunogenicity and uniqueness. We can also perform for you cost-effective synthesis of the peptide and even provide you with full custom antibody services (our partner company). More…
​
FOR MORE INFORMATION , PLEASE VISIT OUR DEDICATED SITE:
​Aptum Bio in collaboration with Pocono Rabbit farm starts providing services for antibody development using our powerful MAD and IMMACCEL adjuvants that increase the titre of specific IgGs and greatly accelerates the antibody production. Our customers in USA may go directly to the site of Pocono, whereas other clients please conact us. The overview of all services may be seen here. It includes Express Antibody protocol, pufification, regular bleeds - the ususal. So, if you are ordering form us your peptide epitope, why not to let us to prepare you specific high affitinity antibodies to it?
​